The Jimmy Jig has used a telescoped stationary fence since 1980, copied by most job site table saws. It is robust, no bolting required, time tested and proven – it will stay aligned and will not flex or lift up. A good fence turns a poor saw into a champ; a good fence on a table saw is an absolute necessity. Apart from the blade, the fence is the most important part of any table saw. When precision and safety is the name of the game, the #1 player is the Original Jimmy Jig!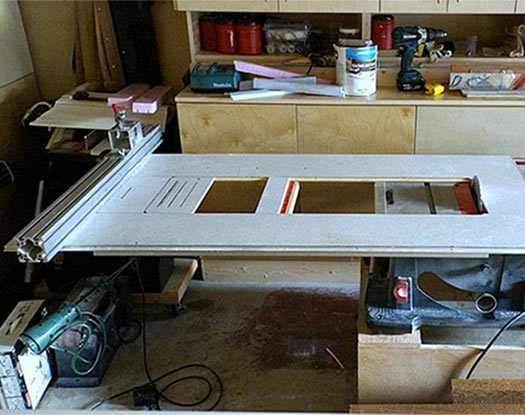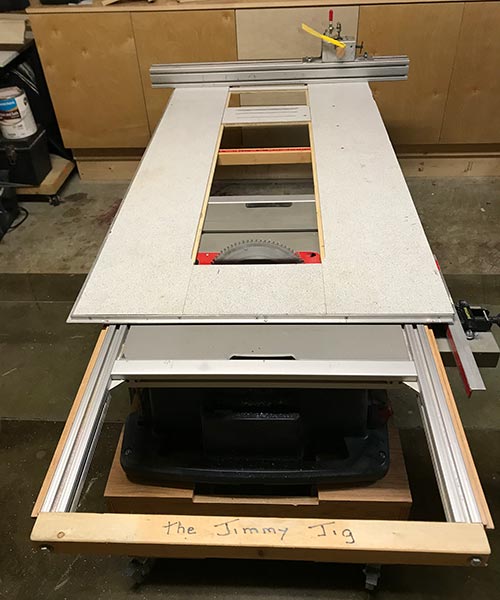 The Facts Of This Table Saw Technology
The single most important feature on any table saw is the rip fence. After all, 90% of the cuts you will make are rips, and making them accurate is crucial.  A good fence has many qualities, but the most important one is the ability to lock it down parallel to the blade every time.
The Original Jimmy Jig's fence is locked (fixed) to a sliding support platform that will never deflect, yaw, or ride up and is always parallel to the blade. More importantly, it never requires adjustment, which is a significant change to a sliding T-Fence. This locked fence has t-slots to which hold-downs and hold-ins can be attached, and a guard that can be removed and replaced in an instant! T-Fence's clamp approximately every 12 inches, whereas the Jimmy Jig has clamping pressure along the whole length of the front edge frame of the table saw – Aye Rock Solid!
I received the plans this morning, took a few hours to study them, and finished building the jig by noon. I put it together in my father's cabinet shop, he did not understand it at first, but as it took shape, he had to admit its merit. After getting everything waxed and a minor adjustment to the fence, my little $150.00 portable saw was cutting plywood nearly as well as his model 66 Powermatic! I would like to thank you for sharing this information with me.

Kevin Lawrence, N.E. Florida.