A Wee Bit O' Personal History
My name is Seumas MacCombie and I have been a carpenter/joiner and cabinet maker for 64 years, serving my time the old-fashioned way, with hand tools under the eagle eye of a master carpenter joiner cabinetmaker in Scotland district of Aberdeenshire.
The world's first choice to machine wood products and sheet material are hand held power tools and machinery. However, the operation of these tools, particularly the table saw, present a major safety hazard and require adequate safety measures to be in place in order to prevent serious injury especially to the hands and fingers. Understanding the dangers of woodworking machinery, Seumas designed the Original Jimmy Jig to prevent such injuries.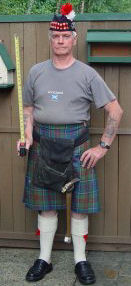 "Seamus"
The Jimmy Jig comes with a stationary fence that slides the table in the reverse direction of the normal set up. It accomplishes this by attaching the safety and anti-kick back devices up front and over-head of the cutting tool or blade, a simple observation Seumas made with safety in mind.
You could call the OJJ the 10-finger saver while observing all other safety procedures when operating woodworking machinery. Don't add to the over 40 thousand yearly table saw accidents in North America, not to mention the World. Look at the innovative safety devices on the OJJ, along with the OJJ and other precautions – the most used safety devices should be the two sockets between you ears!